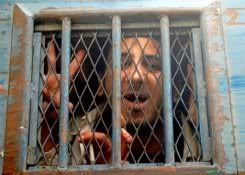 Egyptian blogger and former law student Abdel Karim Suleiman looks out of a police bus in Alexandria. Reporters Without Borders called on Egyptian authorities to release Suleiman for insulting religion and President Hosni Mubarak as he has now served half his four-year sentence. (AFP null)
You've always thought that blogging is a nice, pleasant, no risk activity anyone can do from the safety and sanctity of their own home?
Think again.
Abdel Karim Suleiman, 24, Egyptian blogger and former law student, blogged in Egypt under the name Karim Amer.
Reporters Without Borders
on Wednesday called on Egyptian authorities to release Suleiman, who has served two years of a four year sentence after being arrested in 2006 for insulting religion and President Hosni Mubarak.
Suleiman was sentenced in February 2007 to three years in prison for "inciting hatred of Islam" and one year for "insulting" the Egyptian president.
"Two years have gone by and nothing has changed," the press freedom group said in a statement, according to an AFP article in the
Middle East Times today:
"His family have never come to visit him. Only his lawyer reports to the outside world, about his morale, which weakens day after day, and his fragile state of health.

"His parents, probably as a result of intimidation, have even publicly disowned their son and called for him to be sentenced to death... Two years, that's enough. It is time to free him," said Reporters Without Borders.

Suleiman was convicted of insulting religion and defaming Mubarak after posting an entry on his blog lashing out at Cairo's Al-Azhar University -- the highest seat of learning in Sunni Islam.

"I say to Al-Azhar and its university and its professors and preachers who stand against anyone who thinks differently to them: 'You are destined for the rubbish bin of history, where you will find no one to cry for you, and your regime will end like others have'," he wrote.

His conviction was based on a series of vaguely worded articles in the penal code that forbid the spreading of false information, insulting Islam or other revealed religions, and "affronting the President of the Republic."

The decision was seen by international rights groups as an attempt to intimidate Egypt's blogging scene.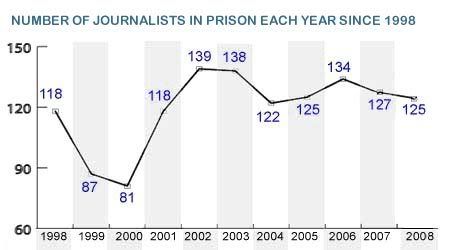 According to a
new census by New York-based media watchdog group the Committee to Protect Journalists (CPJ)
, online journalists, bloggers, web-based reporters and online editors, outnumbering print, TV or any other medium, now account for 45 percent of all media workers in jail worldwide.
CPJ's survey found 125 journalists in all behind bars on December 1, a decrease of two from the 2007 tally.

(Read detailed accounts of each imprisoned journalist.)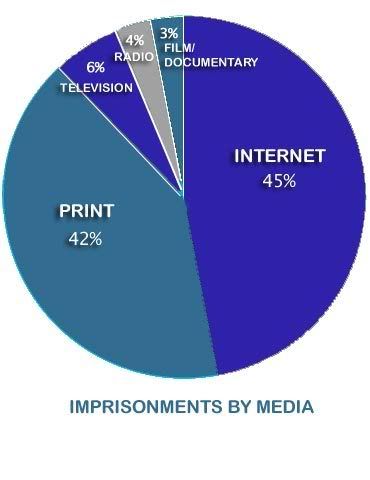 The CPJ says that 56 of currently imprisoned journalists are "online journalists", for the first time outnumbering print journalists, the second largest category with 53 in prison for their reporting. Television and radio journalists and documentary filmmakers make up the remainder, and the overall number of journalists imprisoned worldwide has decreased by two since 2007.
Of the 125 journalists behind bars, seven were found to be imprisoned in the Arab World – one in Egypt,
two in Iraq (one in US custody, the other in Iraqi Kurdistan custody)
, and four in Israel and the Occupied Territories.
CPJ Executive Director Joel Simon says "
Online journalism has changed the media landscape and the way we communicate with each other,". "But the power and influence of this new generation of online journalists has captured the attention of repressive governments around the world, and they have accelerated their counterattack."

The rise of the imprisonment of online journalists goes hand-in-hand with the rise of freelance journalists being jailed. The number of imprisoned freelancers has increased by over 40% in the last two years, numbering 45 out of the 125 on CPJ's list this year.
"The image of the solitary blogger working at home in his pyjamas may be appealing, but when the knock comes on the door they are alone and vulnerable," said CPJ's Simon. "All of us must stand up for their rights - from Internet companies to journalists and press freedom groups.
The future of journalism is online and we are now in a battle with the enemies of press freedom who are using imprisonment to define the limits of public discourse.
"
There's more:

"The Midnight Knock When You're All Alone" >>