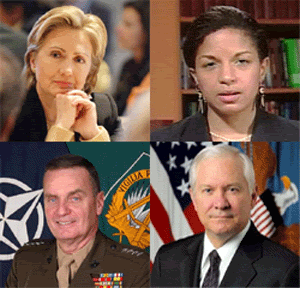 Hillary Clinton, Susan Rice,
Gen. James L. Jones, Robert M. Gates
On Monday President-elect Barack Obama
announced the makeup of the core of his incoming administrations foreign affairs team with what Jeremy Scahill, Puffin Foundation Writing Fellow at the Nation Institute, yesterday called "
Barack Obama's Kettle of Hawks
":
The absence of a solid anti-war voice on Obama's national security team means that US foreign policy isn't going to change.
...
[T]he real rivalry that will play out goes virtually unmentioned. The main battles will not be between Obama's staff, but rather against those who actually want a change in US foreign policy, not just a staff change in the war room.

When announcing his foreign policy team on Monday, Obama said: "I didn't go around checking their voter registration." That is a bit hard to believe, given the 63-question application to work in his White House. But Obama clearly did check their credentials, and the disturbing truth is that he liked what he saw.

The assembly of Hillary Clinton, Robert Gates, Susan Rice and Joe Biden is a kettle of hawks with a proven track record of support for the Iraq war, militaristic interventionism, neoliberal economic policies and a worldview consistent with the foreign policy arch that stretches from George HW Bush's time in office to the present.

Obama has dismissed suggestions that the public records of his appointees bear much relevance to future policy. "Understand where the vision for change comes from, first and foremost," Obama said. "It comes from me. That's my job, to provide a vision in terms of where we are going and to make sure, then, that my team is implementing." It is a line the president-elect's defenders echo often. The reality, though, is that their records do matter.
Hillary Clinton
was confirmed as Obama's Secretary of State, and three other appointments were confirmed as well: his closest foreign affairs adviser
Susan Rice
becoming UN ambassador with a seat at the cabinet table, former NATO commander
General James L. Jones
as national security adviser, and current Secretary of Defense Bush appointee
Robert M. Gates
to remain in that role.
What is the symbolism and what is the actuality of Obama's appointments?
The Real News CEO Paul Jay talks to Lawrence J. Korb and Phyllis Bennis to analyze the overall message about ongoing US foreign policy that is sent out to the world by Obama's choices...
Lawrence J. Korb
is a Senior Fellow at the Center for American Progress and a Senior Adviser to the Center for Defense Information. He served as Assistant Secretary of Defense (Manpower, Reserve Affairs, Installations and Logistics) under President Ronald Reagan from 1981 to 1985. In that position, he administered about seventy percent of the Defense budget.
Phyllis Bennis
is a Senior Analyst at the Institute for Policy Studies in Washington DC. She is the author of Before and After: US Foreign Policy and the September 11 Crisis , Challenging Empire: How People, Governments, and the UN Defy US Power, and her newest book Understanding the US-Iran Crisis: A Primer.
He confirmed the selection of Hilary Clinton for the Secretary of State, Eric Holder for Attorney General, Gen. James Jones for National Security Adviser, Susan Rice as the Ambassador to the UN, and Janet Napolitano as Secretary of Homeland Security.

In perhaps the most shocking of the appointments, Obama confirmed that Bush appointee Robert Gates will stay on as Obama's Secretary of Defense for a to-be-determined period of time.

The appointments have drawn great praise from established Washington voices, including most members of the GOP

, but have been highly criticized by others as lacking the 'change' that Obama's campaign preached.

Senior Editor Paul Jay talks to Lawrence Korb, an adviser to Obama during the campaign, and Phyllis Bennis to get their opinions on Obama's selections and what they signify.




Real News: December 2, 2008
Pragmatism trumps change
Lawrence Korb and Phyllis Bennis discuss the significance of Obama's foreign policy appointments